Unlinked - Download #1 Bulk Downloader App​
Download Unlinked Apk, that is the top bulk Downloader of Android apps. Unlinked is best alternate of Filelinked app.

Categories
You can setup categories for your library content.

Password Protection
This is one of the best feature you can protect your libraries with password.

Feature rich
Our app offers rich features compared to all alternatives.
From the above section, you probably got a vague idea about this application. If not, Unlinked is a free application developed that allows the user to download unlimited movies, TV shows, games, free streaming apps, and other stuff from a single platform.
With Unlinked, you can anytime download the desired content/game without searching through hundreds of websites and URLs. Plus, you can install and use this application on your android, iOS, Android TV, and other devices.
Unlinked Apk not only saves you money by offering these services for free, but also saves your time by maintaining a clean, easy to navigate, and ad-free User-Interface. The app also encrypts your libraries to protect them from being accessed by any extruder.

Download and Install Cinema HD app which is #1 movie streaming app currently available.
Download BeeTV Apk Latest Version which provides free movies and TV series.
Alight Motion is an app to edit videos so download Alight Motion for PC from here.
VN Video Editor or VLogNow is an Android application to edit videos and post on social media so download VN Video Editor for PC free.
Download Smarttubenext Apk that allows you to watch and download Youtube videos adfree.
It's easier to download different apps and games on your smartphone compared to an Android TV. Various app stores allow the user to download any app for gaming, fitness, streaming, and more.
However, Android TV users don't have that luxury and have to either buy premium apps to watch the latest movies, live TV shows, and download games.
As an Android TV user, it's not easy to search and download various apps and games from a third-party website using a remote. It takes ages to type in those lengthy URLs and then dive into the sea of advertisements or pop-ups. To solve this issue, today we introduce you tih a great application named 'Unlinked'. So, let's talk about this in detail.
Completely free, the user doesn't have to pay or register to use the app or run codes into it.
No advertisements and pop-up notifications, the developer removed all that annoying stuff.
All codes used to access the applications are easily available on the internet.
Simple and easy-to-use interface with custom and password-protected libraries.
Provides end-to-end AES-256 encryption for your libraries.
A unified dashboard allows the users to create, delete, and manage all their libraries from a single interface.
Give voice commands and search your favorite apps without using the remote.
Directly access all the third-party apps from a single location.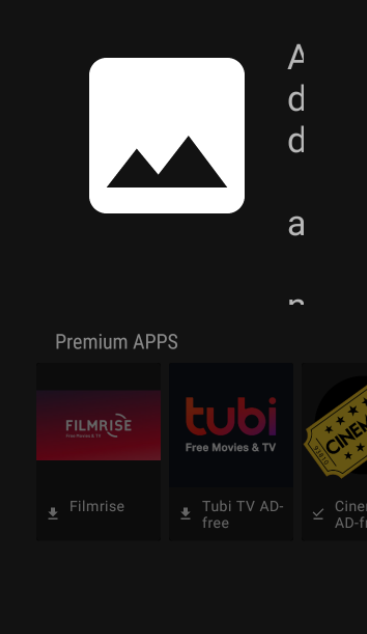 Open the blog on your device and download the Unlinked Apk from the links and mentioned below.
Once the download is over, open the Apk file and click on Install.
The device will ask for permission to install a third-party app, allow it.
Wait till the app gets installed.
Now, launch the Unlinked app on your device and click on Add new library.
The interface will ask you to enter a Code and a PIN.
Enter '7cd6a4f1' in the and code section and '911911' in the PIN.
Now, enjoy unlimited TV channels, movies, your favorite shows, games, and other applications.
Unlinked is one of the most popular applications that provide you the best opportunities to try unlimited content, games, and apps. So, download Unlinked now and securely access all the third-party apps and free content using the codes.